Nothing beats freshly picked produce from the garden, especially when prepared with French cooking techniques by a team of talented chefs at Signatures Restaurant. With three gardens, we have an abundance of fresh ingredients to incorporate into our dishes this time of year. We locally source many of our ingredients to keep the food that we serve close to home here in Winona, MN.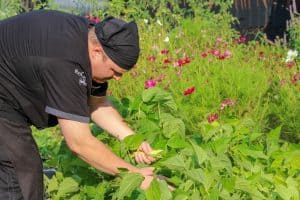 This week our Executive Chef Jeremy Beck picked fresh green beans for our pheasant entree. The Signatures Restaurant dining room overlooks the garden and sometimes you can see our chefs picking fresh produce. Tomatoes, peppers, cucumbers, and radishes are also ripe and being picked from the garden this week.
Next Chef Foster washed and prepared the fresh green beans picked right from the garden and plated them along with the rest of the entree.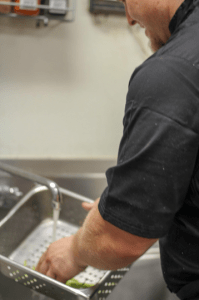 Once prepared, the green beans are plated alongside an oven roasted pheasant breast and leg of confit locally sourced from MacFarlane Pheasants, Janesville, WI, along with a house-made blackberry chutney, and house potato crisps.
Finally, it is ready to be served – fresh from the garden – simple as that. We take pride in not using chemicals but letting our garden flourish naturally to bring you the highest quality of ingredients in every bite that you eat.
This time of the year is the best for our fresh produce. So, come and taste all of the finest flavors that the summer season has to offer!