Meet Meagan Reyes: Kitchen Manager at Signatures
Bussing tables to gourmet chef
While studying to be a teacher and managing a Perkins, Meagan Reyes found a new calling: a passion for cooking. Born in Bluff Siding, Wisconsin, Meagan grew up with her dad cooking for her family, which inspired her to start cooking. Meagan first started bussing tables at the Hillside Fish House back in 2010, has moved her way up the ladder working at several restaurants in town, and has been with us at Signatures for over three years.
Starting as a sauté chef in 2017, Meagan was put in charge of making the Signatures Soup De Jour. She notes, "It was the first time I made something that was beyond what I was able to do in the past." Meagan quickly proved herself to be a highly-skilled asset to the team with her strong work ethic and ability to create excellent dishes for guests in both Signatures and The Grill.
Over the last year, Meagan has become the kitchen manager where she oversees all parts of the kitchens and helps create new dishes for the seasonal menus. "Even without traditional training, I have always been the type of person who excels in managing a team and feel I am able to maintain Signatures' high quality of expectations in a professional and creative manner." 
Colorful Creations
While there are many things that Meagan enjoys about cooking, what she enjoys the most is "making food look beautiful by putting together colorful entrée, especially if the colorful entrees go with the season." Meagan is most proud of her creation of a potato-wrapped halibut.
"It was the first time I developed a special entrée on my own adding my own personal touch to it by pairing it with a sautéed spinach and craisin salad, topped with toasted walnuts and a pomegranate reduction glaze. I just find it amazing how you can create so many different dishes and flavors with a single fish."
Meagan has also expanded her knowledge and expertise with baking and has created several of the Signatures' Chef's choice such as apple-crisp, and pumpkin-pie cheesecakes.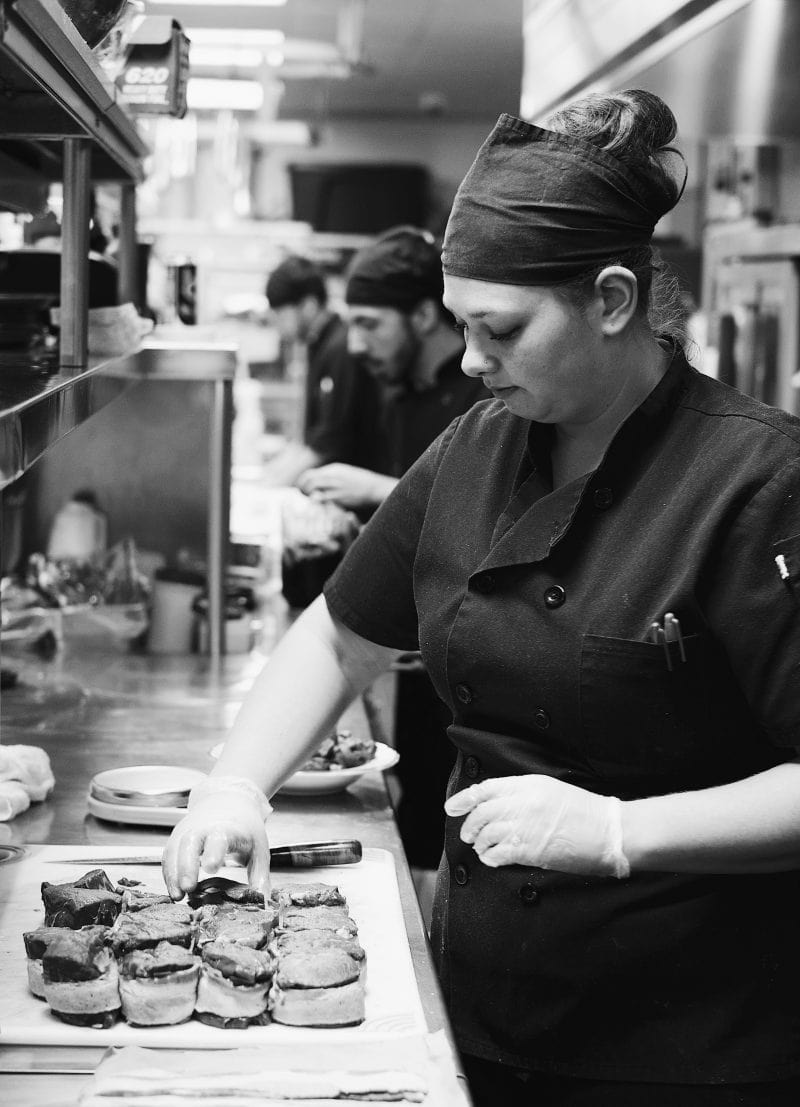 Life inspiration
In her everyday life, Meagan's mother is her inspiration to do amazing things, whatever comes her way. "Every day I make it a goal to try my hardest," Meagan says.  Even with her busy work schedule, Meagan still makes time for her mom and enjoys going to the Y with her after spending some time playing with her husky Bella and her Chihuahua Mr. Gibbs.
One day Meagan hopes to run her own kitchen, but for now she is "focusing on soaking up as much experience and information as I can."
Stop in at Signatures on County Road 17 to taste one of Meagan's delicious creations!